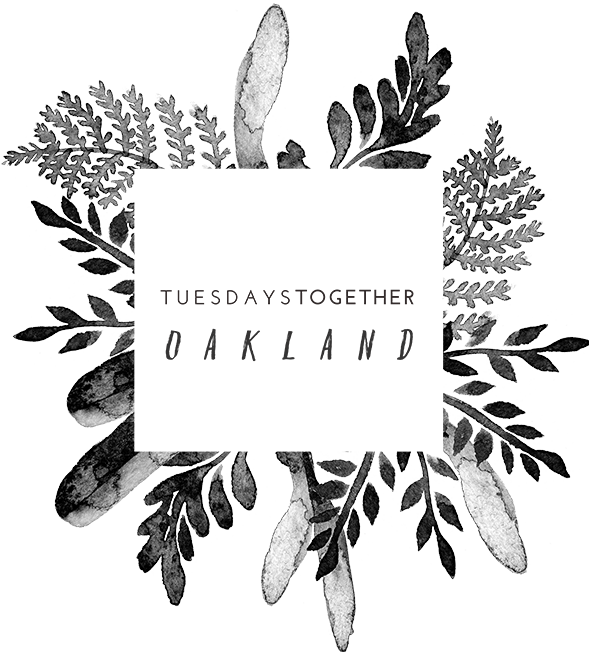 Tuesdays Together meet-ups
Our Oakland Chapter of TuesdaysTogether meetups are usually on the second Tuesday of every month where creatives + entrepreneurs gather together for coffee and conversation.
It is a safe open space for idea sharing, goal building and community. We believe in #Community over Competition.
The Oakland chapter focuses on community building, diversity & inclusion within the creative & entreurepunal industry.

Group Leaders:
2019 - Cherlyn Wagner
2018 - Cherlyn Wagner & Laurie Wilson
2017 - Ella Sophie

Scheduled Monthly Events & Topics
April 2019
Web Presence & Seo
Scheduled Speakers: Geraldine Convento
Geraldine is a Web Presence, Marketing & SEO Expert
Time: 5 pm - 7 pm
5:30 - 6:30 Geraldine's presentation & talk
6:35 - 7 pm Q & A
Join our community via our Facebook group and RSVP today!
Location: The Forage Kitchen
Beverages & Appetizers will be provided.
Let us know if you'd like to bring something to share!
Feel free to come after work, bring your family or partner and stay awhile!
If you will need a Bart ride, contact me on the FB group.
May 2019
Self Care Tips & Mental Wellness for Entrepreneurs
Scheduled Speakers:
Vanessa of Nomaste Me
Learn some tips and routines to start your mental wellness and self-care routine.
Will touch on mental health and how we can feel less anxiety & tackle overwhelm in our freelancing & creative small business lives.
Time: 11 am - Introductions
11:30 am - Jennifer
12:15 pm - Vanessa
1:30 pm - Enjoy some snacks
Stay for the community!
Location: Oakland, CA (please rsvp via our FB group to receive the address)
June 2019
Video Marketing for Creative Entrepreneurs
Scheduled Speakers: Mary Betsey
Forward Films, Thick & Thin Films & Sheleader
Location: SPHERE
CREATING CONNECTION THROUGH THE POWER OF VIDEO MARKETING
Time: 5:45 pm - Arrivals
6:15 pm - Mary Betsey
7:30 pm - Q&A
8 pm - End
Stay for the community and a tour of Sphere - a coworking & wellness oasis in the heart of downtown Oakland!
Location: Sphere, 1212 Broadway, Suite 300 (please rsvp via our FB group to receive the address)
Sign up for our newsletter so you don't miss a thing!
#TuesdaysTogether on Instagram